Digital Marketing is incomplete without free SEO tools, in fact, but on the other side it is not possible to carry on online marketing activities without investing in tools.

If your business is present online and you are aim is to flourish in the digital World then you don't have a choice instead of investing in the tools.

No matter how big or small your business is you need some digital marketing tools to carry your business smoothly.

But what if you are running low on budget and cant invest heaps of money to promote your brand?

Well, do not worry as there are tons of free marketing tools available that can take your business to new heights.

The journey of SEO starts as soon as you think about it. But practically it is a step by step process and every step of it requires some tools.

KEYWORD RESEARCH TOOLS
Keyword research is the fundamental step of SEO and should not be skipped at any cost.

Here are some free SEO tools that can be used to perform extensive keyword research.
1.Keywords Everywhere
Keywords everywhere is a free keyword research tool. You need to download its chrome extension in order to view the relevant keywords.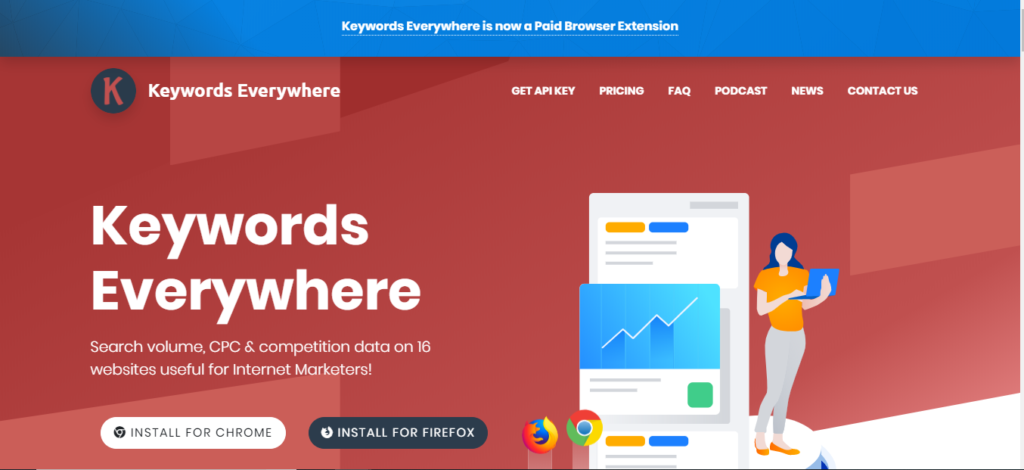 Features:-
Keywords everywhere show the volume for your targeted keywords.
It provides more keyword suggestion based on your targeted keywords.
It also shows the level of competition that is prevailing on a particular keyword.
2.Google Keyword Planner
Google Keyword Planner is a free tool by Google to discover the new keywords. It allows its users to research and evaluate the list of Keywords.
Features
It provides keyword ideas and suggestions based on phrases, product category, and landing pages.
Google Keyword Planner provides the average monthly search volume of the keywords.
You can also find grouped keywords under the menu of "Grouped ideas"
It also provides a Competitive analysis for a particular Keyword.
3.KW Finder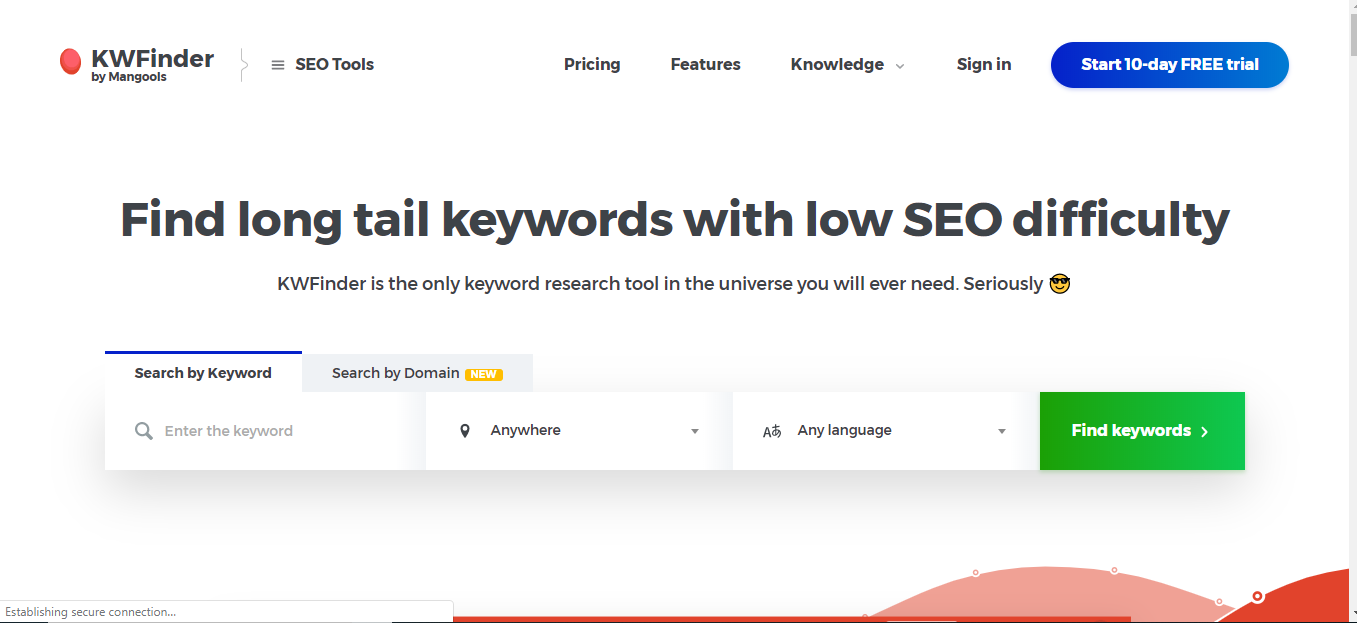 KW Finder is a free keyword research tool that helps you and explores new keyword ideas.

You need to first create an account on KW Finder in order to carry out your keyword research.
Features
It provides the search volume for a particular keyword.
You can also see the average CPC of your targeted keywords.
KW Finder also provides the Keyword difficulty level so that you can select your keywords wisely.
4.Keyword Hero
Keyword Hero is not exactly a keyword research tool but it provides the data on missing keywords using the number system approach and a lot of calculations.
Features
Finds out the Keywords that you might have missed in adding to your list.
You can easily check that at what date you gained a lot of traffic.
You can even upgrade from free to pro version in order to get more advanced features
Plagiarism Checking Tools
Google accords high priority to the content of a website and it has stringent rules when it comes to creating content, one of its rules is to avoid duplicate content on a website.

If you violate its rules it can impose a penalty on your website.

So it's very important to check the plagiarism of content before posting it on your website. Here are some free tools with which you can check Plagiarism.

5.Plagiarism checker by Small Seo tools
Small SEO tools provide the plagiarism checker tool to make sure that your content is free from any duplicity.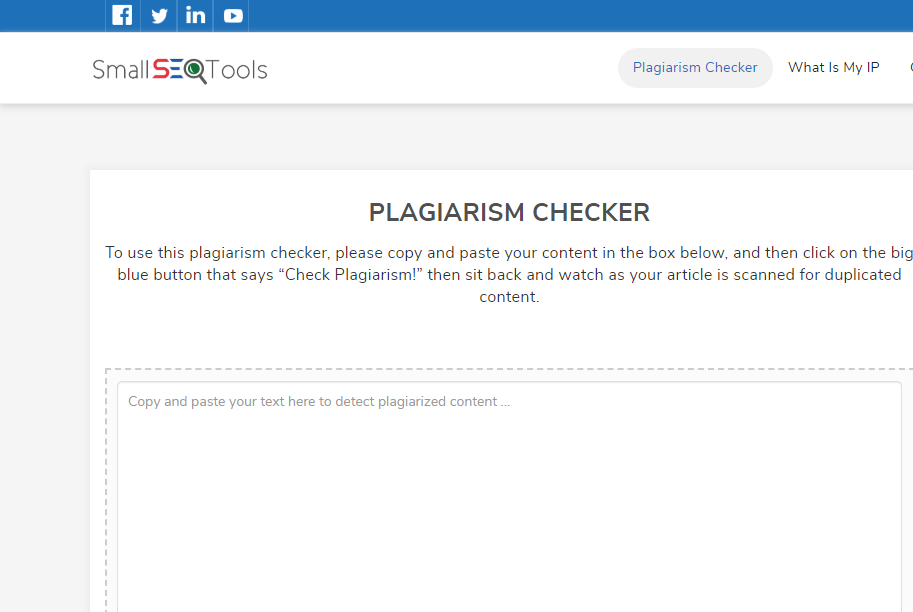 Features
It provides the amount of plagiarism in percentage. Higher the percentage, more plagiarised content is.
It shows the plagiarised content in red colour and unique in green colour.
You can only enter 1000 words at a time
Small Seo Plagiarism checker also provides the sources of plagiarised content.
6.Copyscape.com
Copyscape is a free tool that helps in checking plagiarism of content.
Features
Unlike other plagiarism checking tools, here you need to enter the URL of a website in order to check the plagiarism.
It provides the details on the sources that are stealing your content.
It also suggests ways in which you can protect your website content from getting plagiarised.
You can only enter the URL of a website for a limited number of times with a free version.
7.Duplichecker.com
Duplicheker is a free plagiarism checker tool. Apart from checking plagiarism, you can also check the grammar of your content.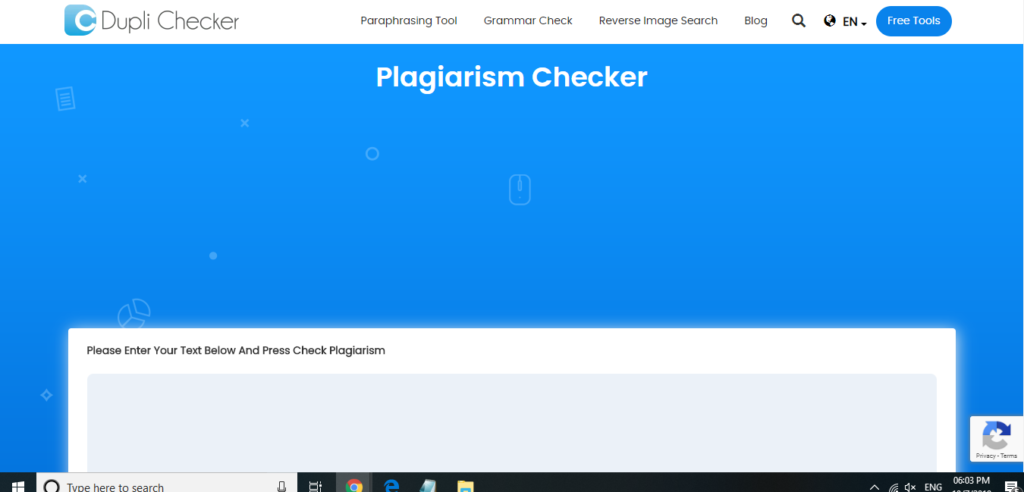 Features
You need to enter the content in the tool or you can also enter the website address to check the plagiarism.
It only accepts 1000 words at a time
It shows the plagiarism in percentage
You can also convert the text from binary translator to PDF converter.
Backlinks Checking Tools
Backlinks play a very important role in SEO as the Quantity and Quality of your backlinks represent the trustworthiness of your website. So here are some free tools that you can use the backlinks of a website.
8.UberSuggest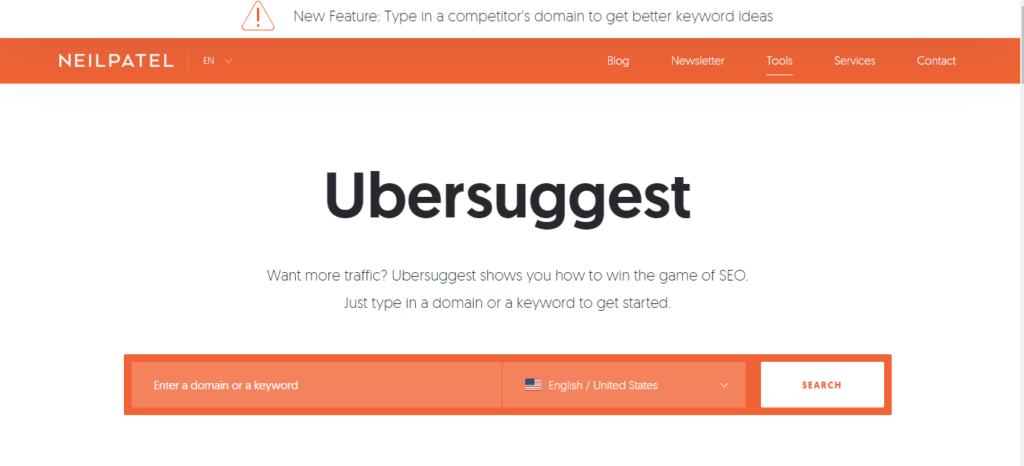 Ubersuggest is a free tool that helps you check the backlinks of your competitors.
Apart from checking backlinks, you can also see the top pages and keywords for which your competitors are ranking.
Features
You need to enter the URL of the website to check the number and types of backlinks.
It also provides a number of and No-follow links of a particular website.
Ubersuggest also provides details of the domain from where a backlink is taken like their Doman Score, backlink type.
It also gives the details of the Anchor Text that is placed on the link.
9.Ahrefs Backlink Checker
Ahrefs backlink checker is a very popular tool for checking the backlinks of a web page.
Features
It provides the Domain Rating of a specific web page.
It gives the details on the number of backlinks a site has along with its referring domains.
Ahrefs also provides the Anchor Text and the traffic coming from a referring domain.
The free version of the tool only provides the top 100 backlinks of a website.
Tools for Creating Infographics and Posters

10.Piktochart
Piktochart is a free infographic creating tool that has amazing templates and elements for creating that perfect infographic.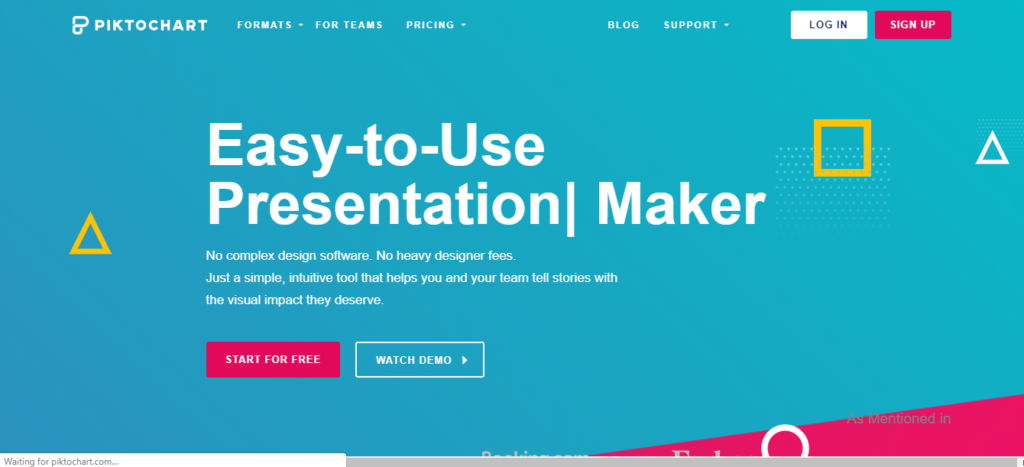 Features:-
It has a simple user interface as anyone with average designing skills can create exquisite infographics.
Piktochart is equipped with all the essential elements that help you create beautiful designs.
You can even include charts, videos, maps etc in your infographic.
It has a wide range of icons and images.
Piktochart provides high-resolution downloads quality.
11.Canva
Canva is another incredible tool used for creating aesthetic graphics and designs. It is best for designing social media posts and cover images but it has limited elements and features when it comes to building an infographic.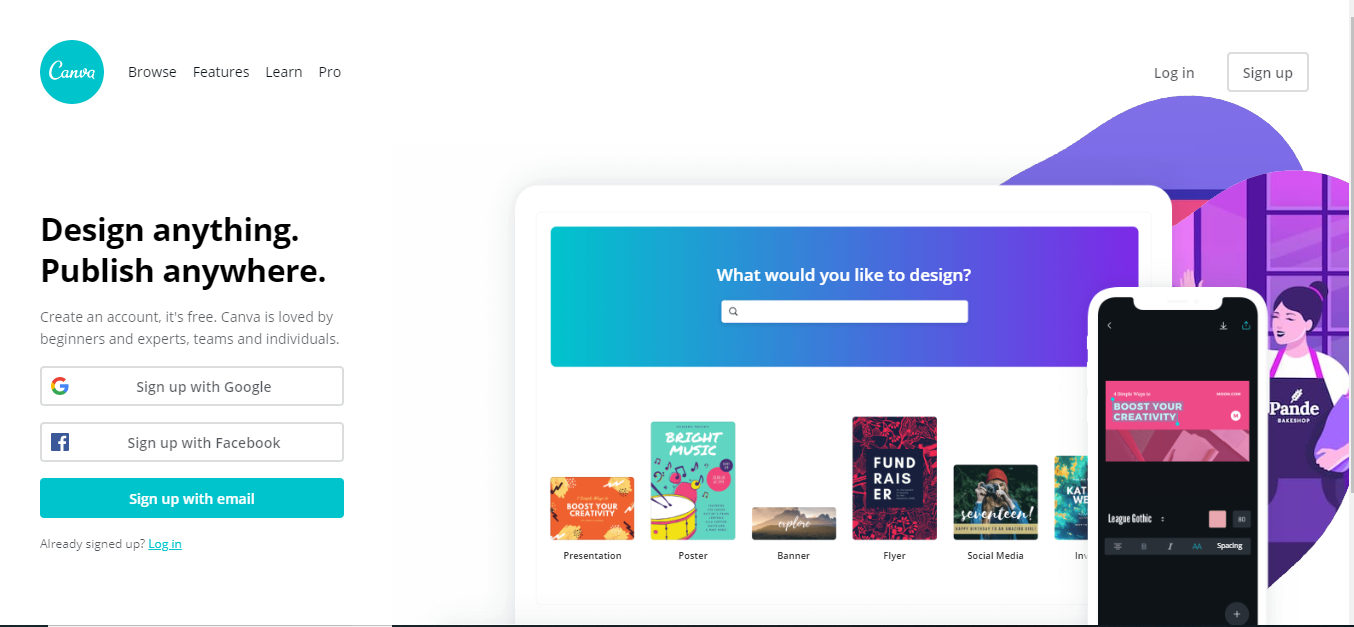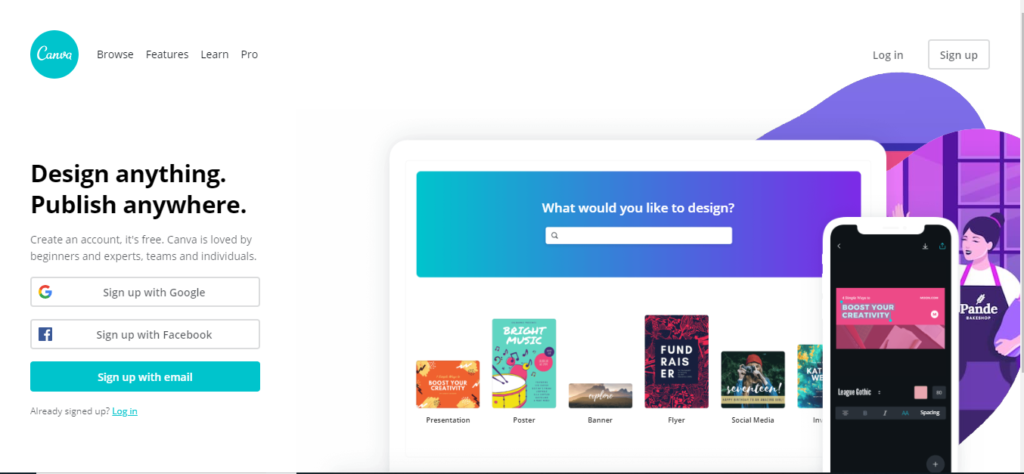 Features
It has layouts for all the occasions you just name it and it will be there.
You can download stock images.
It is best for creating Social Media graphics
Canva gives you the control to create your own customized templates
You can even edit the photos with Canva.
12.Pexels
Pexels is a free tool through which you can download stock images and use them on your website. These images are free from any copyright issues and you can use it anywhere.
Features
Primarily used for downloading bulk images.
You will get a wide range of photos as they have huge database.
It provides high-quality images.
All the photos can be used for commercial purposes.
You can even upload photos captured by you.
Analytical Tools
What if you have done everything correctly and precisely? How you are going to analyze every activity that you have performed on your site.
Well, that is also done with the help of certain tools. Here are some tools that can be used to analyse and track your website's performance.
13.Google Analytics
The very first free tool is Google Analytics as it provides all the insights related to your website and also shows if something is lacking on your site.
Features
The primary function of Google Analytics is to see the amount of traffic that your site is getting. You can also track the country and devices from where traffic is coming to your website.
You can also track the conversions happening on your site through Google Analytics.
It also provides you with the Keyword referrals which means the keywords that someone searched on Google and then landed on your website.
It also gives a detailed analysis of the internal and external links of your Website.
14.Seoptimer.com
Seotimer is a free tool used to perform the site audit of a website in merely 30 seconds. If your site has any technical glitches then Seoptimer will inform you about the same.
Features
Seoptimer crawls all the pages of a website in no time and finds issues that are preventing your website from getting ranked in SERP.
It shows the Pages based on the priority like the issues that must be resolved urgently holds the top priority.
You can track the performance of your website and see the estimated traffic that each keyword drives to your website.
You can also see the keywords of your competitor and their rankings.
It also suggests keywords that can drive traffic to your website.
XML Sitemap Generator Tools
XML Sitemap is surprisingly used to improve your rankings on Search Engine Result Page.
It tells Search Engine about all the important pages of your website that need to be crawled first.
It basically provides priority to the pages of a website.
15.https://www.xml-sitemaps.com
XML Sitemaps is a free tool that is used to generate a Sitemap of your website.
Features
You just have to enter the URL of your website in order to generate the Sitemap.
It hardly takes a minute to crawl all the pages of your website.
Once scanned all the pages, it gives the option to download the XML file.
16.Small SEO Tools
You can also generate Sitemap using Small Seo tools.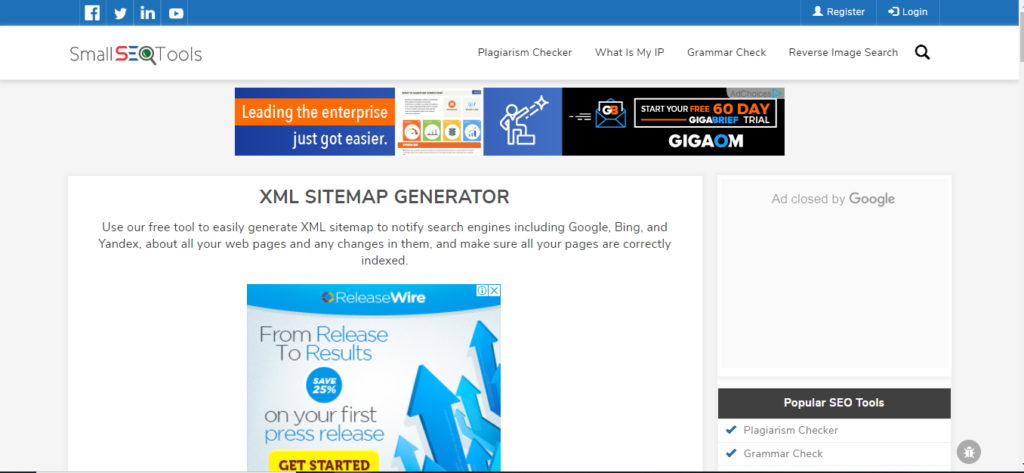 Features
You just need to enter the URL of your website and it will generate the whole file of Sitemap in a few seconds.
Download the file of Sitemap.xml and upload the same in your domain root folder of the site.
You can also add the URL in your webmaster account.
Robots.txt Generator
Robots.txt is a file used to instruct web robots on how to crawl the pages of a website.
you can tell the search engines which pages to index and which are to be skipped through Robots.txt.
Here are some tools that you can use to generate Robots.txt.
17.tools.seobook.com
Tools.seobook.com is a free tool used to generate the robots.txt file. It provides a hassle-free and simple user-interface.
Features
You can generate robots.txt simply by entering the tag of allowing and disallow.
After that, you can paste that file into your root domain file and Google Webmaster.
Social Media Marketing Tools
18.Buffer
Buffer is a freemium Social Media tool that helps grow your Social Media by tracking the performance of posts and to help you get new content ideas that are more engaging and user-friendly.
Features
You can schedule and customize the post for individual Social Media platform.
It comes with a Social Media calendar for advance planning of your content.
You can effortlessly share the article you love by just 1 click with the browser extension.
With the help of Buffer Analytics, you can easily track your high performing content.
Buffer also provides insights on how your posts have performed in a given month or Quarter.
19.Hootsuite
Hootsuite is another great Social Media tool that helps manage different Social Media accounts at a time. It simplifies your efforts of handling multi Social Media channels and manually scheduling every single post.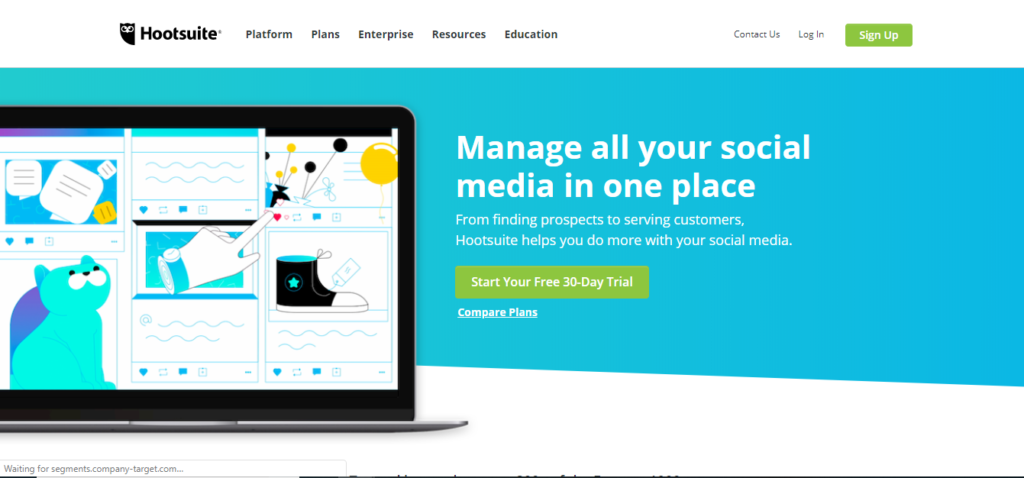 Features
You can stay active on Social Media 24*7 as it provides the comfort of scheduling post whenever and wherever you want.
Provides Content curation ideas so that you create trending and engaging posts.
You can further boost your high performing content to drive more traffic to your website.
Monitor and analyse all your posts for Quick response.
20.Sprout Social
Sprout social is not a completely free tool but it provides free access for 30 days so that you can test its features and usability. If you wish to continue with it you can renew it after 30 days.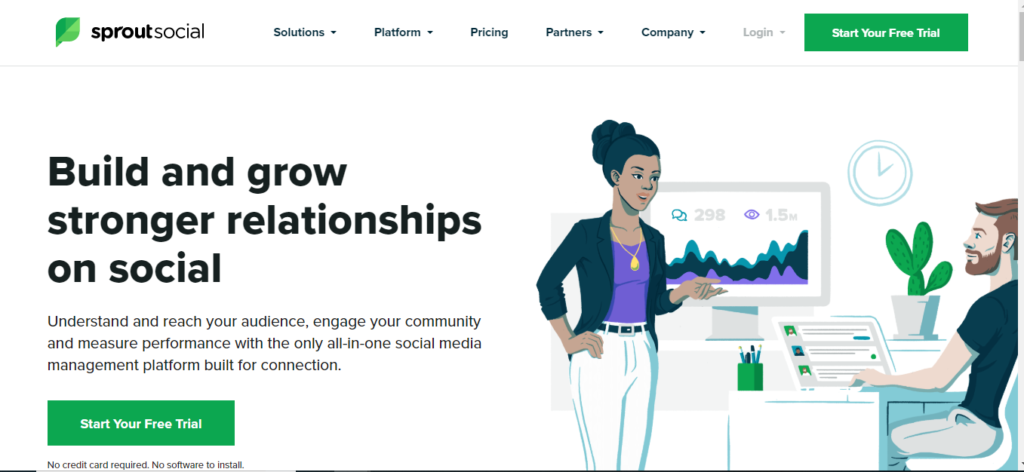 Features
Posting and Scheduling posts on different Social Media Platforms.
Analyzes the performance of your posts to know how well they are performing.
Sprout Social is even compatible with mobile.
Suggests Content ideas.
21.TweetDeck
If you are more active on twitter then this tool is perfect for you because you can manage all your Twitter activities with this great tool.
Features
One single interface for tweeting, replying, messaging and monitoring multiple Twitter accounts.
You can even block, mute, follow and view different accounts using TweetDeck.
You can even retweet the content that you like on your Twitter Handle.
About the Author
Rituraj Sengar is a Marketing Professional with rich history of helping Small Business Enterprises. He belongs to the list of Featured Contributors at Rankfrog.com.