Adsense is one of the most popular advertising channels for earning money through ads. If you want to monetize your blog or website through ads then this is the best option.
However, in some cases, Google Adsense is not approved easily or your website may be banned from displaying ads.
In that case, you cannot rely on Google Adsense, you will blatantly need some other Google Adsense Alternatives to earn money from your website.
Apart from ads, you can also go for affiliate networks as they are more profitable than Adsense.
Here are some of the Best Google Adsense alternatives to monetize your blog:
1. Media.net
Media.net provides similar services like Google Adsense. It displays contextual and displays ads.
Features
You can customize ads that are relevant to your website's content.
It is the AdSense for Yahoo and Bing.
All the ads displayed by Media.net is responsive and is compatible with every screen size.
They improve user engagement rate by providing the personalized landing page designs.
It pays via PayPal and wire with the threshold limit of $100.
2. Revenue Hits
Revenue hits is also a popular advertisement platform in the market to monetize your website.
Features
Quick approval of the account
Different formats like display, banners, pop-up, sliders, button etc.
Boost the ads to generate more revenue
Accepts Paypal, Payoneer and other different payment options.
The minimum limit to withdraw money is $50.
3. BuySell Ads
BuySell Ads is a popular advertising platform for displaying banner ads. It is a platform used for buying and selling ad space on blogs and websites.
Features
Provides great user experience by showing relevant ads.
It is best for sites that have high traffic.
It accepts Paypal and other payment gateways.
The Threshold limit is $50 and you can withdraw the money twice in a month.
They do not accept low traffic sites.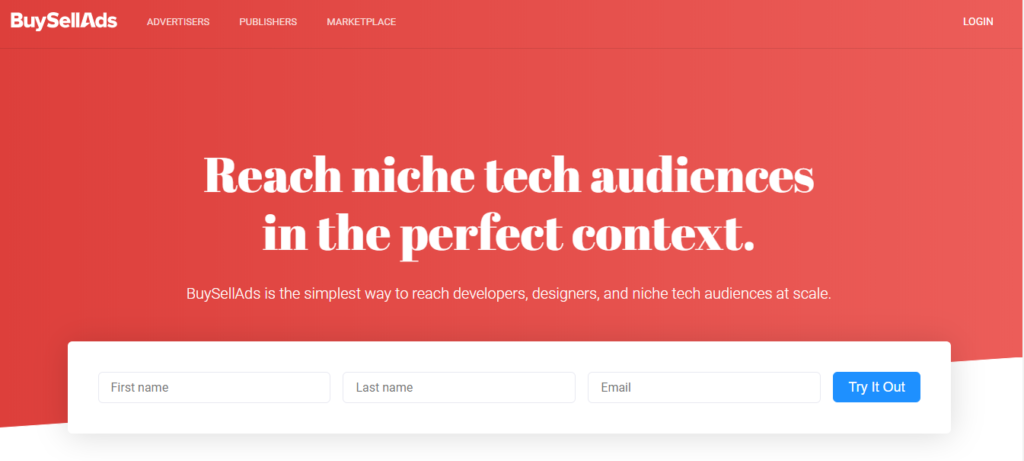 4. Propeller Ads
Propeller Ads is another alternative for Google Adsense. It is also a great marketplace of affiliate users.
Features
It works on the conversion-driven concept that helps to boost your conversion rates.
Propeller Ads has automated ad optimization system that produces great result.
Provides detailed analytics on the performance of the ads.
There are multiple payment gateways available to withdraw your income.
It pays on a net 30 basis though for some countries the payment is on a weekly basis.
5. Adbuff
Adbuff is a Global ad network which is located in Canada. It is a great alternative that can be used instead of Google Adsense.
Features
It comes with a real-time dashboard.
Adbuff has an account management system to evaluate the performance of ads.
Helps optimization ads for better results.
Displays only relevant ads that are related to your content.
It pays on net 45 basis
Accepts various payment gateways.
6. Adsterra
Adsterra is one of the best Google Adsense alternatives for publishers and advertisers. It is best for sites that have high traffic.
Features
Adsterra offers a different ad format for both mobile and desktop traffic.
The ad format includes popups, banners, links, notifications and video ads.
You can filtrate the type of ads you want to show on your wesite.
It accepts payment gateways like Paypal, Webmoney, Bitcoins, payments etc.
You can withdraw your money on net 15 bases.
7. Infolinks
Infolinks is one of the largest Ad networks across the World for publishers and advertisers. It is highly regarded as the best alternative to Google Adsense because of its reach. It utilizes unique advertisement technology to attract eyes of publishers.
Features
It has a user-friendly user-interface.
Display ads related to the relevant content.
Infolinks support different ad types like banner, videos and links.
It is suitable for high traffic sites.
This ad network is used by many reputed brands like Facebook, Amazon, Pizzahut etc.
8. Bidvertiser
Bidvertiser is a direct advertising network to monetize your website. It also helps in optimizing your traffic and uses smart link technology to divert traffic to the preferred link.
Features
It is compatible with both mobile and desktop.
The ad formats include banners, sliders, pop-ups, video etc.
Accepts popular payment gateways like Paypal
The threshold limit is as low as $10
Affiliate Networks
Affiliate marketing is one of the most productive ways to earn money online after advertisements. Affiliate marketing is all about selling someone's else products on your website on a commission basis.

Some of the most popular affiliate networks are listed below
1. Amazon Affiliates
Amazon affiliate program is the most popular affiliate network in the World. It has a huge potential of increasing your income. The most important thing to remember is that you need to promote only relevant products on your websites.
Features
It works on a commission-based model which means you will get a fraction of commission when someone purchases a product using your link.
You don't need to have high traffic on your website in order to use the Amazon affiliate program.
The more clicks you get, the more you earn.
You can also create your own amazon affiliate store.
You can earn up to 10% of the commission on the product you sell.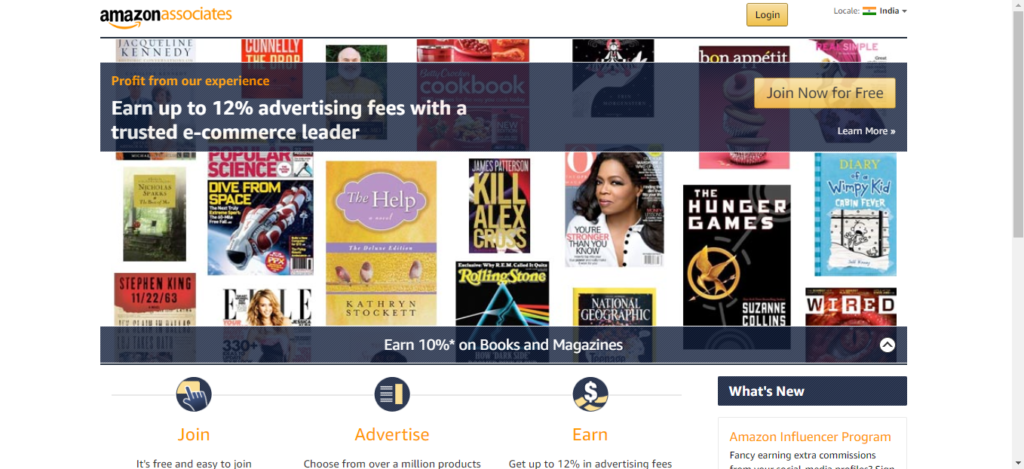 2. ShareASale Affiliate
ShareASale is the best private affiliate program that has been into business for 17 years. It offers a wide range of categories like technology, business, fashion, etc.
Features
You can analyze the performance of your campaigns.
It provides a customizable dashboard.
Provides real-time analytics
Social media integration.
ShareASale also provides a content management system.
Pays on a monthly basis.
The threshold limit is $50.
3. Flex Offers
Flexoffers was founded in the year 2008 since then it has become one of the famous affiliate network programs.
Features
It comes with an account manager to help you navigate across flex offers.
It also accepts the site that doesn't have high traffic.
It has flexible payment options, you can withdraw the amount in 30 days and if you are a top performer you can even withdraw the amount in 7 days.
People residing in the US get paid directly via cheques or bank transfer and people outside the US are paid via PayPal.
4. ClickBank
ClickBank is another affiliate marketing tool that helps you to earn money online. It is a platform for both producers and sellers to generate a decent amount of income.
Features
It provides all the features of a marketplace.
Clickbank also provides reports on your performance.
You can even find the trending affiliate products
It comes with the product management system.
It even has an earning calculator that can be used to calculate your income.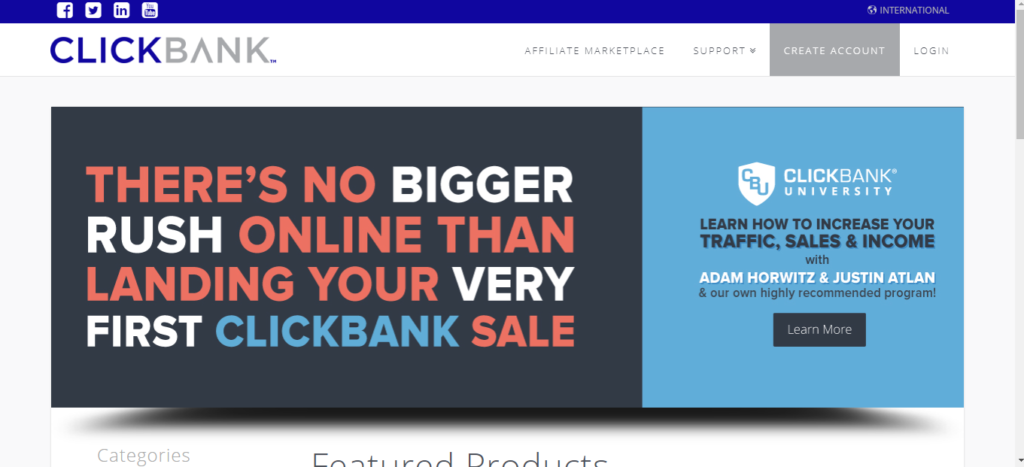 Conclusion
As there are many best alternatives for Google Adsense but you cannot rely on every other platform in order to earn money. You need to look at certain factors like payout options, type of ads. In the above section, we have covered the top and trusted sources to earn money without being dependent on Google Adsense.