Hi there, Are you looking for Summer Internship in Bhopal? – You've come to the right place.
Rankfrog provides Internship opportunities to students in Bhopal in various discipline. Fill out this form to apply for the internship program by Rankfrog.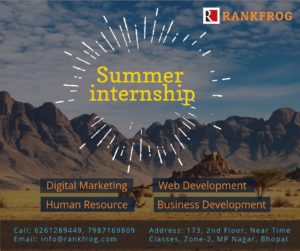 Apply for Internship
Schedule your Interview with us
Social Media Internship
Through our Social Media internship program, you will understand how to create and manage your brand profiles or pages on social media platforms.  Get full knowledge of how to increase user engagement and reach of your social media platforms. Learn how to run Facebook, Twitter, and LinkedIn etc campaigns and how to target audience and which audience should be targeted. Become Social Media Certified and also get Job assistance.
Digital Marketing Internship
Become Digital Marketing expert through our comprehensive digital marketing internship program. This internship will cover all fundamentals with hands-on experience in SEO (Search Engine Optimization) which include on-page and off-page techniques, Social Media, Web analytics, Google Adwords (PPC), ORM (Online Reputation Management) and content marketing. This internship program also includes live project work experience with job assistance and interview preparation.
Web Development Internship
In this internship, you will be getting hands-on in various languages like- PHP, HTML, Java Scripts, and also you will learn CSS, MySQL, and more coding skills. Through this web development internship, you will learn how to develop the website using coding and how to create static, dynamic and e-commerce website with all the features integrated
HR Internship
Being an HR is the most valuable position you have in the company, but being an HR and not knowing your roles and responsibilities is the toughest thing to survive in a company. In HR internship we make you understand all the roles and responsibilities of an HR and make your experience for all the roles by giving you work on companies activities and to work on client engagement, recruitment, email marketing, content writing, documentation, corporate culture and also improve your communication skills etc.