Like many SEOs in our industry, I lose sleep over link building efforts. Where to look for link opportunities, how to approach bloggers and webmasters who could benefit from my content and then finding out how to convince them that my content is 'link worthy' take a huge amount of time. Like sales, the link prospecting part of my day can be time consuming and frustrating.
For established brands, this isn't so much of an issue. They have the industry sway, or are household brand names that means outreach can be a bit easier as you have the trust and expertise (particularly important now that Google has doubled down on E.A.T) built up over time.
But for companies just starting out, or for those that are trying to boost their standing, gaining links can be a lot harder. Often these are the companies that need them the most in order to break away from the pack and start to rank higher in SERPs.
So how can smaller brands with less time or marketing budget build links that are vital for their rankings to improve?
Clickbait Content vs. Efficient Strategies
There are high profile website gurus and SEO experts proposing all kinds of link building techniques from the skyscraper method through to link reclamation and blogger outreach. These gurus have their own reasons for titling their content with clickbait titles ("5 POWERFUL Ways to Gain More Links", "Use this #1 Method to DOUBLE Your Link Building Efficiency".
But which of these methods can SEO's use in a time efficient manner to build links for our clients or our own businesses?
I surveyed members of the SEO community to find out which of the most frequently touted link building strategies that:
The main strategies I was interested in are:
| | |
| --- | --- |
| Link Reclamation | Broken Link Building |
| Skyscraper Technique | Guest Posting |
| Blogger Outreach | Un-Linked Mentions |
These methods appear frequently in content pieces and 'how to build link' guides across the internet. Any SEO's or link builders will have come across article on popular search marketing blogs, news sites or influencer sites that offer these as strong link building avenues. Given how frequently they occur in the 'literature' they were good candidates to start our understanding.

Link Techniques That Will Actually Be Used In 2020
The first question I wanted to answer was around which techniques would actually be used? I gathered responses and plotted them into the below chart.
At the top of the list are two techniques that frequently appear in link builder lists: Blogger Outreach and Guest Posting. Its not unusual to see these kinds of techniques at the top of the list. Most websites that accept guest posts will allow a link back to the authors website as a 'thank you' for creating a piece of content for them, so the guarantee of at least 1 link earned for a pieced of content created puts this near the top of everyone's list. Blogger outreach is even more popular with 22% of participants using this technique for their link efforts ongoing.
Unlinked mention and link reclamation together only get a slice of the pie equal to any other single method. SEO's seem to be favouring techniques that can potentially bring in more than 1 link, or seem to be one sided. Unlinked mentions and link reclamation don't bring anything additional to the webmaster or blogger that is fixing the links, it's purely a 1-way street.
By contrast, broken link building with 19% of respondents using it, is a way to bring value to both parties and so its no unusual to see SEO's adding this to their link building tool kit. The webmaster benefits from a great new resource and a more SEO friendly page and the author gets a link.
The skyscraper method also attracted a lot of attention for its ability to earn links. The skyscraper technique seeks to create content that is so valuable it ranks at the top of a SERP and so is likely to attract links due to the perceived authority of ranking highly.
Time Inefficient Link Efforts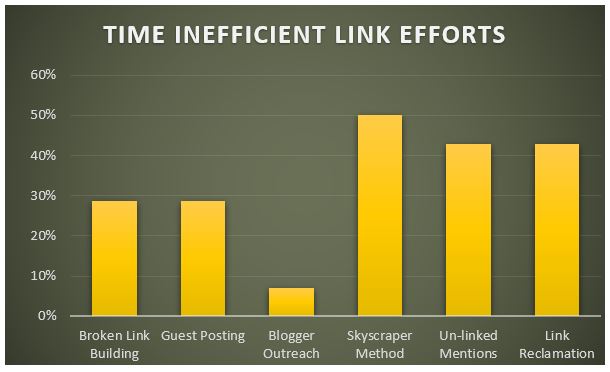 It was interesting to see the skyscraper method at the bottom of the list in terms of time efficiency of link building. Creating good quality content takes time, a lot of time and unlink outreach or guest posting placements of content, there is no guarantee that it gets even 1 backlink.
Unlinked mentions and link reclamation are also at the top of 'biggest time wasters'. This points again to the fact that these methods are all about the content creator and bring nothing to the table for the website owner.
Time Efficient Link Efforts
The most popular and most time efficient outreach strategy defined by the participants was blogger outreach. The nest closest result came in at nearly 30 percentage points lower! The sheer number of blogs and content hubs that are accessible online with a quick search and the number of tools that are available for blogger and guest post outreach means that these activities are at the top of most lists as highly time efficient methods to build links.
Interestingly, some respondents found un-linked mentions to be somewhat time-efficient, even though it's not popular. There are a range of SEO tools can quickly show you where these un-linked mentions lie, so pulling together a list of target websites to ask for a link from and shoot off a quick email.
What Techniques Should I Use?
Remove or reduce the amount of time you spend on one-way street techniques. Link reclamation and un-linked mentions are unpopular and time inefficient.
If you are time or budget poor, blogger outreach and guest posting are the best methods to look at when getting links and growing rankings and traffic. The availability of SEO tools to help source and build relationships that go both ways plus the added benefit of knowing that at least some links will come from these methods. Grow relationships with bloggers so that these can be leverage more than once bringing additional traffic and links to your site.
—
About the Author:
Kyle Douglas is the SEO Manager at Revium. With over 6 years in digital he now nurtures and grows SEO teams in digital agencies. Meet him on LinkedIn.