Are you a fashion blogger, influencer or food blogger, etc? And You just want to publish your written work globally but don't know how to deliver it to your reader's fruitfulness.
Definitely this is the post for you.
WordPress is the best tool or platform with a large collection of themes of open source and thus, free to use. WordPress enables you to create complete websites with awesome functionality and the ability to create a good design. No doubt WordPress focuses on flexibility, user-friendliness, increased security with an aim to stay low budget at the same time. So here's the compiled list of around 20 best free WordPress theme. Moreover, these themes are intuitive, elegant, minimalist interfaces and distraction free-layouts, etc. 
Best Fashion blog themes 
1. Activello: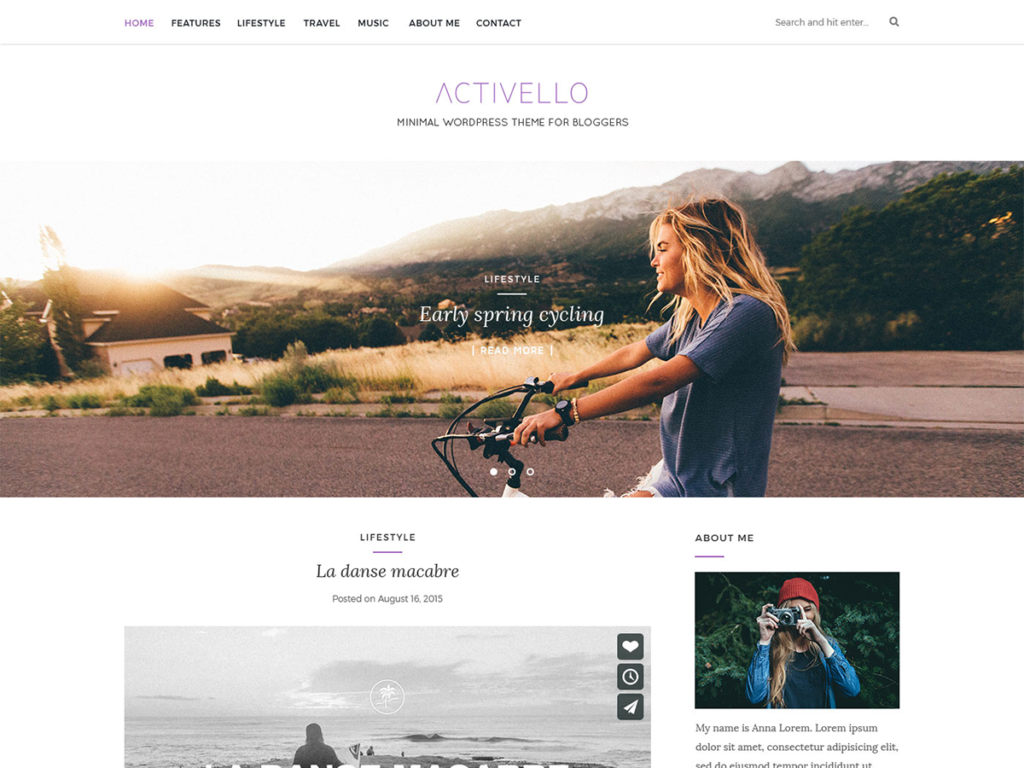 Check out the activello, free feminine WordPress theme for a blogging website. It is a fresh and visually appealing multipurpose blog theme that's crafted using bootstrap framework. This theme is easy to fit for travel, food, fashion, and other blogging sites. The best thing about activello is it built on bootstrap framework, so this theme renders on diverse devices basically means a responsive theme that will boost mobile traffic and thus increase conversion rates. This theme has a retina ready pages with eloquent colors, excellent graphics, and other amazing pixel-perfect content. You can easily build and manage an online shop with a compatible feature of woo-commerce.
2. Cali:
Cali WordPress theme can be used in travel or fashion blogging or magazine website. It offers the aesthetic layout and totally free of cost. Cali offers a responsive layout for viewing on every device. This will improve your user experience and search engines will boost your SERP rankings. There are numerous numbers of widgets that you can place in different areas like sidebar, header, and footer. Another reason to love this theme is because of woo-commerce integration. This plugin enables your blog to turn into an eCommerce website. 
3. Blaskan:
Blaskan can be an ideal theme for female bloggers who wants to shine with a feminine website. It is a free feminine WordPress blogger theme that has a fresh, distraction-free layout and clean design for blogging. Blaskan ensures that the visitors can always access or follow your social media accounts through social media icons on the header. This theme helps to build or create multiple forms with style. Forms will help to generate more leads. 
4. Gucherry Blog:
Gucherry blog focuses on a minimalist approach which makes this theme more beautiful. This flexible theme for blogs can be certain for a number of niches. The theme supports the post formats sharing video, audio, and written content, this way you can make the post more engaging. Its features provide plenty of widgets that make it easy to add content on different widgets area on your site as well this theme gives you enough space for ad display so you can easily monetize your blog with Google Adsense or private ads. 
Best WordPress themes for writers:
5. Hoffman:
This is the best WordPress theme for writers which has a beautiful layout. Hoffman renders on multiple devices that make this theme responsive and flat design which helps in boost search engine ranking. Hoffman has retina ready pages that showcase sharp text, vibrant colors, and excellent graphics. Another reason to like this theme is because of jetpack integration as well as support for post-editors styles.
6. Zillah: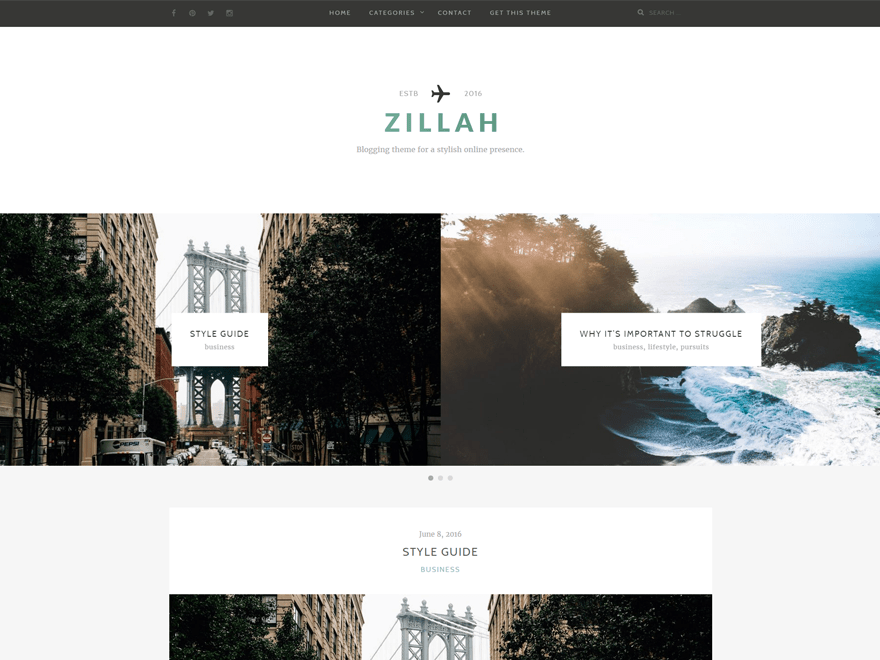 Zillah is an SEO-friendly theme and optimized for speed which will help to manage your website easily. Zillah is a responsive design theme, so this will increase the search engine rankings and also increase the conversion rate. It also gives the option to show social media channels on the header section, so that visitors can easily follow on social media. The basic functionality of the featured slider makes it more attractive and also you can content on widget footer. 
7. Lovecraft:
Lovecraft has the feature of great typography which makes your written content readable and appealing when displayed. The basic editor styles like video, audio, and written content make website more engaging. This theme has Jetpack support which brings many features available for WordPress site. This theme shows a modern and elegant interface so it experiences the users a content more approachable. To add more content there are three custom widgets available. 
8. Underwood:
Underwood supports various post styles and easy customization of colors and fonts. By activating the woo-commerce plugin turn your responsive website into e-commerce site. The unique function of this theme is it comes in three homepage versions and an amazing featured slider. 
9. Chosen:
This website has a minimalist design and renders on diverse devices so it is mobile-friendly. You can put the large featured images and with the two-colum blog layout. The best thing is to create your own custom logo. The social menu option can get you more followers and ultimately generate more leads. 
10. Amadeus:
Amadeus has the feature of elegant typography which makes the website more appealing. This theme has a minimalist layout, but one add on feature of video embedding widget which makes the website more interacting. This theme is SEO friendly which can boost your search engine ranking and also this theme can be used in multiple devices. It has a functionality of parallax header and also social header menu to get followers from social media signals. Thus this will increase the conversion rate.